VEE Delivery Provides Last-mile Delivery and Logistics Solutions in Jordan
Technological advancements have raised demand in the delivery business in Jordan and other developing and developed countries throughout the world. The rise of eCommerce and internet enterprises and their need for last-mile logistics has created ideal conditions for last-mile logistics entrepreneurship. Since delivery has become such an essential aspect of businesses, they are now paying attention to last-mile delivery and their core procedures. For example, a store that used to sell its items in person has little choice but to grow online sales and delivery services to customers to expand the market and even sustain competition. As a result, last-mile delivery methods must be implemented. Small and medium-sized businesses want to outsource their last-mile delivery activities to delivery companies, focusing on their core processes while lowering their expenses.
Mohammad Habbul and Amer Sarhan aim to address the demands of businesses and individuals in the realm of last-mile delivery and logistics with the solutions they give at VEE Delivery.
What Is VEE Delivery?
VEE Delivery's primary goal is to provide delivery and logistics services to any businesses that require delivery in some way. Amer Sarhan a Co-founder of VEE Delivery characterizes it as follows:
Venice for Delivery Services "VEE Delivery" is a provider of top-notch last-mile delivery and logistics solutions to individuals and businesses of all sizes. Online and brick and mortar businesses of all types are some of them.

Amer Sarhan, Co-founder of VEE Delivery
VEE Delivery's Main Concept
The majority of new enterprises begin with an idea. Entrepreneurs pursue solid ideas based on market demands and, after further examination, establish their own company. VEE Delivery's founders aren't just interested in capturing Jordan's last-mile delivery industry. Their goal is to be able to assist entrepreneurs to fulfill their dreams. It is accomplished by taking over a company's delivery department and offering high-quality solutions for customers. VEE Delivery's founders want to alleviate entrepreneurs' responsibilities to focus on their primary procedures.
VEE Delivery was founded on the following principles, according to Amer Sarhan:
How Does VEE Delivery Solve Problems?
Here are two last-mile delivery difficulties that solving can help online businesses prosper significantly:
Delivery speed
Covering areas
Customer expectations are extremely high today, and it is tough to meet them. The consumers consider the purchase to be delivered as quickly as possible. So, the speed with which orders are delivered has become a competitive factor in the delivery industry, and companies with faster delivery rates will be more successful.
Also, because they are online, online enterprises typically operate in a single country and do not have a defined sales restriction. So, customers generally are nationwide. As a result, they require all-encompassing last-mile delivery services. Vee Delivery is a good solution to increase the speed of delivery and coverage of all areas in Jordan.
"VEE Delivery is enabling customers and businesses to deliver packages instantly and also offering customers the ability to deliver their packages all over Jordan within 24 hours," Amer Sarhan added.
Previous Platforms
We have tried several on-demand delivery software, however, we could not find something that fits our needs, until we found Onro.

Amer Sarhan, Co-founder of VEE Delivery
Onro + VEE Delivery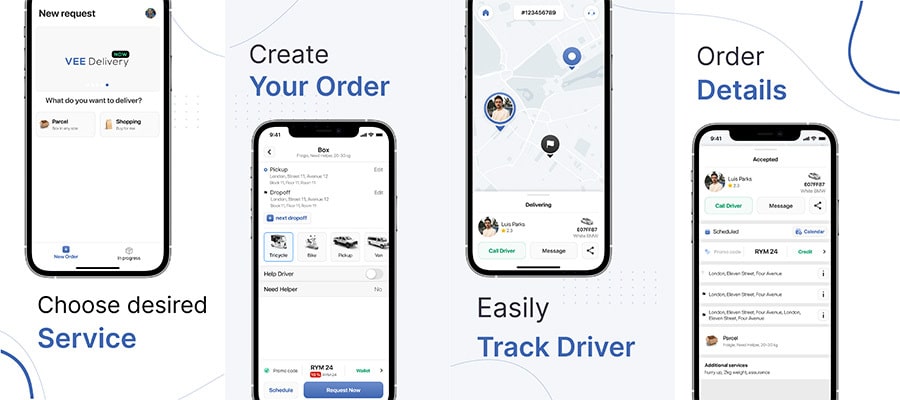 Because there are so many components in delivery software, it is both expensive and complex to support. On the other hand, delivery software directly automates and maintains the significant activities of delivery businesses, and even pausing them for a second causes the company to shut down. With our many years of experience in shipping software development and knowledge of delivery businesses, Onro is well aware of this. Therefore, one of the most significant benefits that Onro provides is quick help and troubleshooting. It is the Onro strength that our customers are constantly praising. We consider VEE Delivery to be a partner at Onro, and we credit Onro's success to VEE Delivery's success.
Therefore, we strive to keep VEE Delivery free of software concerns to focus on the execution processes.