On-demand Delivery App, What is Necessary? What is Not?
Unless we know what features to look for, we will not get the appropriate On-Demand Delivery App for our business. You can use the following tips to choose the best on demand delivery software. However, it is more important to know what to look for and avoid.
Must-have Features Of An On-demand Delivery App
It's natural to be reluctant to state the obvious, but the following are the features that an on-demand delivery app should offer.
App-Based Solution
In addition to its name, this form of service is required when it is not anticipated, and the customer must immediately get a package from point A to point B. Therefore, having an application for customers on their phones has two benefits.
Accurate location: Whenever a customer uses a mobile app, the app may automatically determine the customer's current location without any effort from the customer. All the customer has to do in this situation is enter the address and other details related to the drop-off location.
High Accessibility: Since On-Demand Delivery occurs quickly, users may not have access to a computer when they need it, but if they have an app installed on their smartphone, they can order delivery anywhere.
As a result, an appropriate On-Demand Delivery App should offer Android and iOS apps to its customers.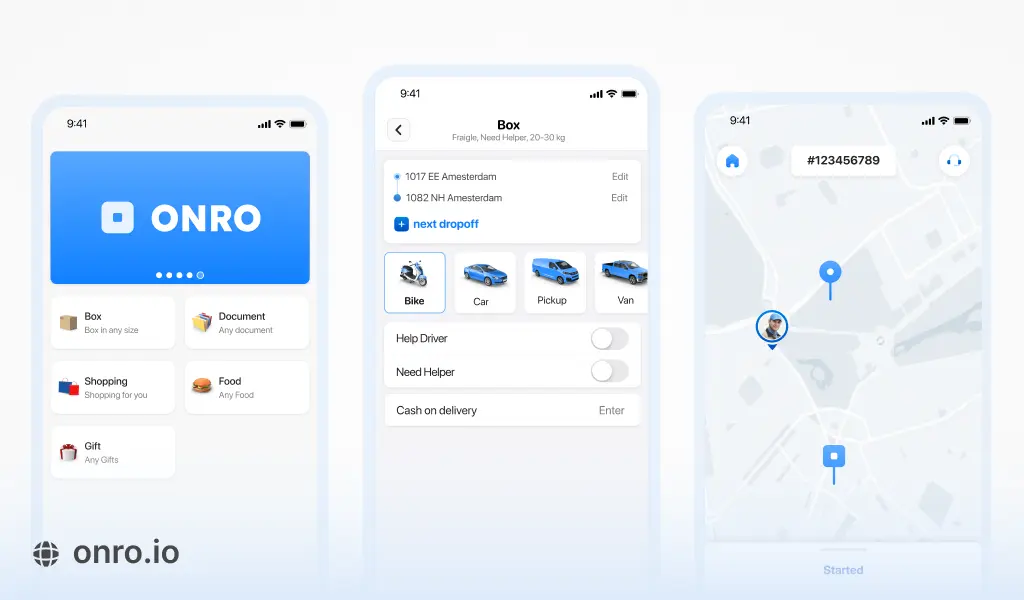 Smart Dispatching
When it comes to reducing operating costs and manual processes, the software should meet your operational needs. One of these needs is dispatching orders to drivers. It is the most efficient way to assign orders.
At this point, the company's business model requires that every package be transported from point A to point B on demand. Drivers are dispersed throughout the city, and the software's job is to locate the most suitable driver for each particular order.
When choosing a driver, one must consider several factors, including how far the pick-up location is, the type of car, the popularity rating of that driver, and how long it takes to receive an order. The differences between solutions lie in the level of intelligence and flexibility they offer.
Driver Shifting
On-demand businesses typically employ independent contractors to deliver packages, unlike courier companies, whose drivers are often hired and have scheduled work shifts. These drivers may only wish to use the platform for a few hours a day. Thus, the driver application should allow the entry and exit of the work shift.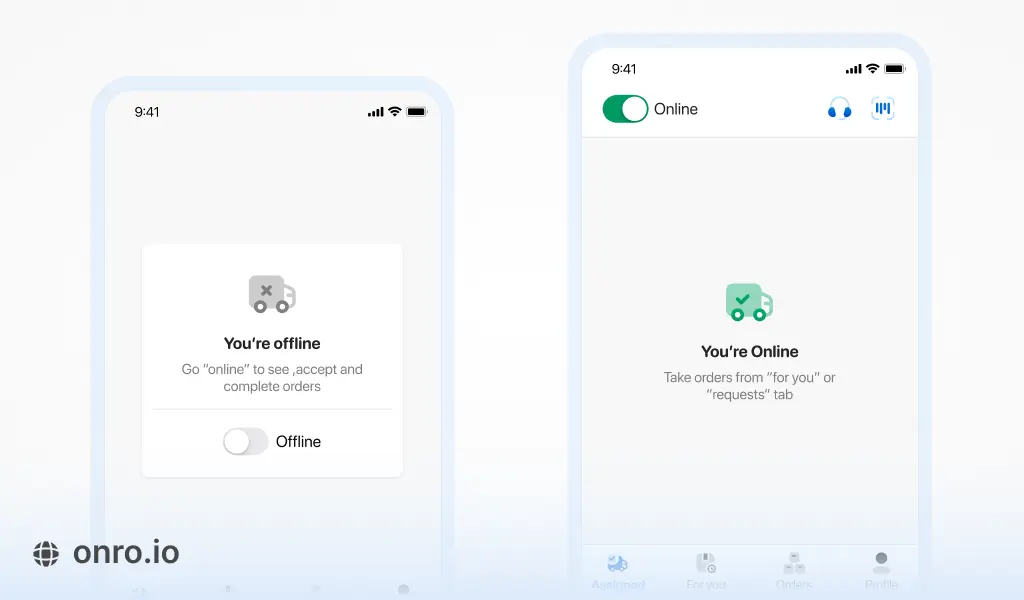 Dynamic Earning For Drivers
Drivers who work on a contract basis or as independent contractors are paid hourly or on commission.
When a driver receives $10 with a 20% commission, the company earns $2, and the driver earns $8.
As a financial relationship between the driver and the company, on-demand delivery systems must manage these exchanges and assess transparency, debt, and demand.
Payment settlement with drivers is also a common aspect of an On-demand Delivery Service, which works with drivers who share the delivery cost of orders when customers pay online.
Pricing (km and zone base)
Since a driver with his vehicle is engaged (motorcycle, automobile, etc.) to move the package and each driver moves just one box at the time, the majority of pricing models are based on route lengths and durations (including traffic times).
This pricing will depend on zones in some circumstances, but the company must have the features that are needed for configuring the price regionally and per kilometer in a genuinely dynamic and adaptive manner.
White Label On-Demand Delivery App
A company's logo, brand, and name are integrated into software products to enhance its reputation. Customers use Android and iOS applications to order on-demand services. Following are some crucial aspects of white labeling:
Apps Logo
Published under the company name
Run-on the domain address
Using corporate color schemes
Driver's Rating And Feedback
The company in on-demand services must have a customer feedback system to measure the quality of service and drivers. Because drivers have more contact with customers, a points system is in place to reward them for helping rate and categorizing their assistance. Drivers with excellent ratings can receive incentives, and competition can help to improve the quality of service.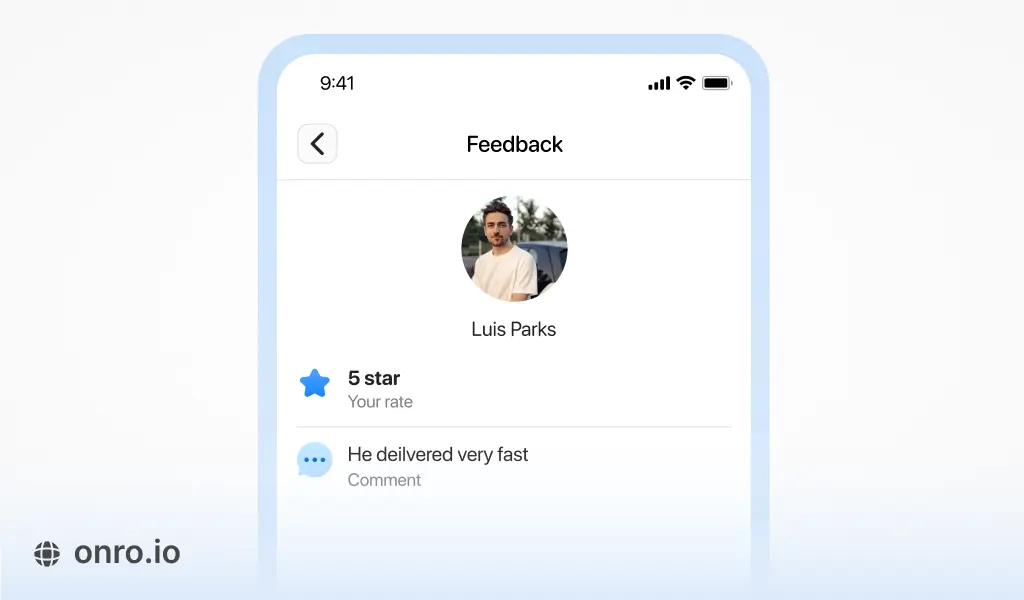 Payment Methods
In this service model, the sender or receiver must fully reimburse the delivery cost (at the time of order). There are several options for payment:
Cash payment
Credit Card
Wallet
Based on the customer's requirements, the software should offer the above options. Calculate all customer balances and company profits, and show it to the system administrator clearly.
Non-Essential Features Of An On-demand Delivery App
This section discusses some of the features of On-demand business that are rarely (or never) utilized.
Barcode Scanning
Identifying items by scanning barcodes is a quick way to locate them. It's also used to prove that something was delivered, which is common in courier companies when a driver has 10-20 parcels at one location and finding the requested package is challenging. However, in the On-demand model, the driver arrives with one parcel, and there is no need to scan the barcode to identify it.
Route Optimization
On-demand orders contain a single pick-up location and a single drop-off location, so a navigation app suffices. Resource management and routes don't need to be managed. So, if you are charging extra for this feature, it's not worth the money.
Bulk Import
Due to the nature of On-Demand, importing orders isn't very practical for an on-demand business because each order must be completed within its time frame.
Hub Management
Unlike other business models, this model does not have much of the hub concept. Packages move directly from point A to point B, and this center contains no warehouses or hubs because there is no place to process the packages and their routings.
Conclusion
When choosing a product for your working set, there are many components to consider, but keeping track of the characteristics that matter and those that don't will help you narrow down your choices. If you are willing to know more about the software, you can check our on-demand delivery software page. If you don't have enough time to investigate more, you can set a demo request using the form below. Our experts will contact you to set a demo session as soon as possible.
Try Onro for Free
Get your free access to the Onro White-label On-demand Delivery Software.
Originally published December 29, 2021 9:02 am, updated Saturday, 26 August 2023.