Delivery App For Small Business
Due to the competition with huge startups, most small local businesses require an excellent delivery app to handle their deliverables. The demand for online orders and door-to-door delivery has risen as technology has advanced, particularly in the wake of the Corona pandemic. According to projections, the delivery business will continue to grow. We created a delivery app for small business to set up and automate the delivery portion. We'll go through its many features and components in the following sections. If you'd like to get a demo account with full access to the delivery management software, click the button below and complete the form.
Try Onro for Free
Get your free access to the Onro All-in-one Delivery Management Software.
The Most Complete Delivery App for Small Business
To grow market share, you must cater to the needs of a broader range of people. Onro takes into account all types of users, and a unique app is created for each. These ready-to-use apps are simple to give to them.
In Onro software, the three customer apps are built for Android, iOS, and Web users. You may cover all users, regardless of the operating system, with these. You can also use the dispatcher panel for users that place their orders over the phone. The dispatcher panel, of course, has other applications. The dispatcher's ability to manage the fleet and orders is one of its most essential features.
Because some of your customers may be online businesses that also have software, a small business delivery app must have the necessary APIs so that its customers may integrate with it. As a result, it has a feature known as Customer API. You can grow your orders by providing APIs to other small businesses.
On the other hand, you can use the driver app if you have drivers who do your business's deliveries. Finally, you can use the admin panel to oversee your company's deliveries.
Every Small Business Needs a Delivery App
Onro is made for a broad spectrum of small enterprises, allowing them to strengthen their distribution departments regardless of their industry. The businesses listed below are among those whose delivery can be automated:
Food deliveries
Restaurants
Groceries
eCommerce
Retailers
Beverages
Florists
Pharmacies
Important Components of a Small Business Delivery App
Even though Onro is an all-in-one delivery app for small businesses with practically all of the essential functions, some of these components are more crucial. The following are some of them: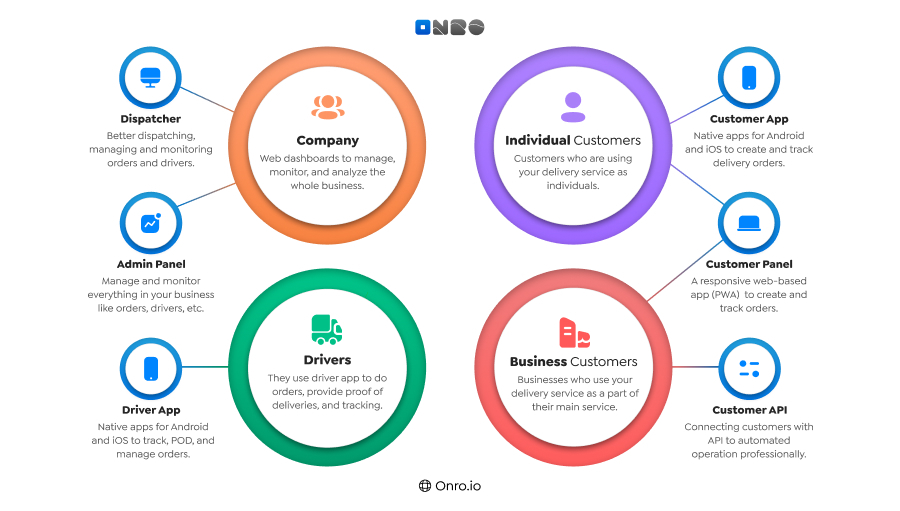 Delivery App for Small Business with a Tiered Pricing
Onro's price approach is tiered base. It's the most appropriate pricing technique for small enterprises. You won't have to pay for the complete software if you use it this way. You only have to pay for what you use.
The cost is computed by adding up all of your delivered orders in Onro over a month and deducting a tiny amount for each successful order. You can find more information on pricing on the dedicated Pricing page.
White-label Delivery App for Small Business
Onro is one of the few delivery apps that allows small businesses to fully white-label their services. This feature will enable you to brand it with your logo. All apps, including customer app, driver app, dispatcher panel, and admin dashboard, are affected. You can also link it to your company's domain. Your consumers will never know you're using a SaaS if you use this functionality. Instead, customers only see your logo throughout the app.
Small Business Delivery App Localization
We take into account the necessities of your surroundings wherever you provide services. We will add it to Onro if there is a specific payment gateway in your nation that you intend to use, utilizing a particular platform of the map, or your SMS panel has not yet been incorporated in it. The services that can be customized in Onro are as follows:

Services and Support
One of the advantages of using a SaaS Delivery App for small businesses is that your costs are reduced initially and on the way.
The cost of building a delivery app for small businesses is very high and not economical at all. Maintenance and upgrade costs are also costly and troublesome.
When you use Onro, support and upgrades are done by the expert team, and you can focus on running the core of your business.
If you want to investigate further, we suggest you click the image below.

---
Originally published January 30, 2022 2:50 pm, updated Sunday, 27 August 2023.