Ecommerce Delivery Management Software
Suppose you run an eCommerce business and search for delivery management software to help with delivery. In that case, Onro can be integrated with your eCommerce software and help you relax about the delivery side of your business. Onro is an Ecommerce Delivery Management Software that includes the essential functionality for managing an eCommerce business's fleet and deliveries. If you'd like to try out the Onro software, click button below. You'll be able to access the demo without entering credit card information quickly, and it will be provided to you for free.
Try Onro for Free
Get your free access to the Onro All-in-one Delivery Management Software.
Integrating Ecommerce Business with Delivery Software
Integrating with the eCommerce infrastructure is the most basic function that an Ecommerce Delivery Management Software should have. For example, suppose you use WooCommerce or Shopify as your eCommerce platform. In that case, it's a good idea to connect it to your eCommerce delivery management software to route orders to the delivery area and ensure that they are delivered.
Onro uses Zapier for integration; therefore, if your eCommerce software is compatible with Zapier, you may connect it to Onro. Suppose you use eCommerce software that is not already linked to Onro (for example, you have developed a customized infrastructure for your business). In that case, the Onro technical team will developed the integration so that you can use Onro to manage your deliveries.
Scheduling Deliveries in eCommerce Delivery Management Software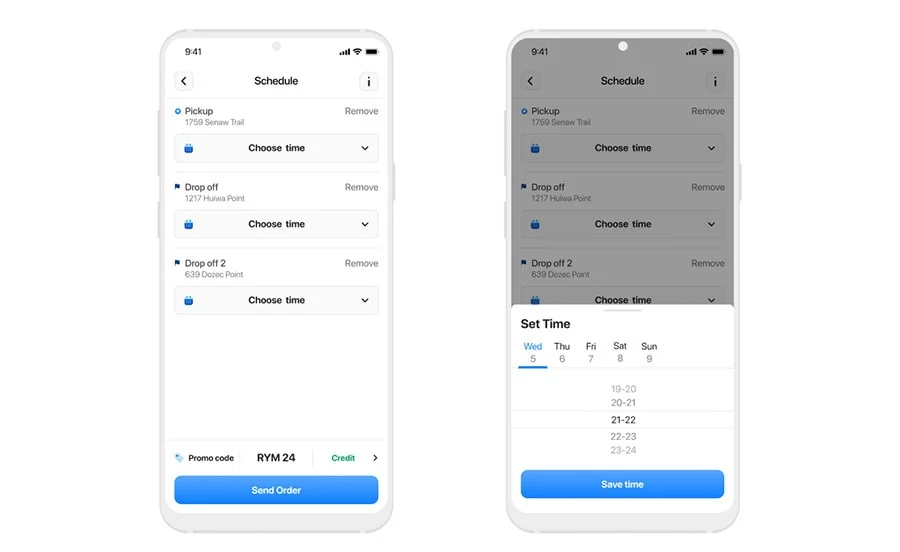 When placing an order in some eCommerce software, the customer can indicate the preferred delivery time. In some businesses, the customer is given an approximate schedule. Many eCommerce companies have delivery scheduling for their fleets. This time can be for pickup or drop-off or both. Order delivery schedule is handled by a Major Feature called scheduling in eCommerce Delivery Management Software. All orders, including Pickup, Delivery, On-demand, and Pickup & Delivery, can be scheduled in Onro. For instance, if you run a marketplace and collect orders from sellers and then deliver them to customers, or if the customer orders are delivered on-demand, you can schedule orders to be delivered using scheduling feature.
Automation Using Dispatcher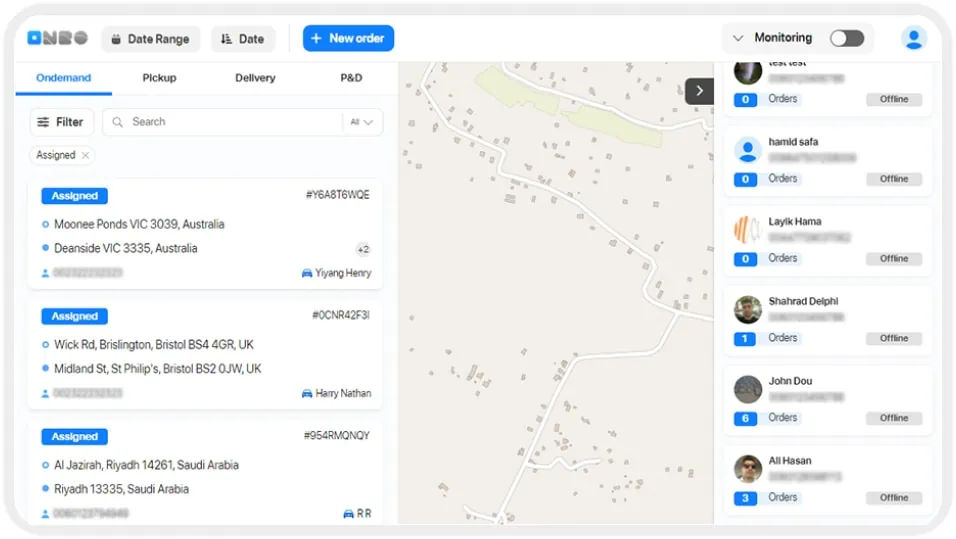 Suppose you are still manually distributing orders from your online store to drivers without using the software. Then you need to realize that, in addition to the hassles of your existing system, you are not functioning at peak efficiency because your distribution system is not optimized. The dispatcher is a component of Ecommerce Delivery Management Software designed to simplify, optimize, and better manage orders and drivers. Orders can be distributed amongst drivers automatically (depending on the driver closest to the order location) or manually in Onro Dispatcher (manually selecting the driver and assigning the order to him). Additionally, the operator who uses it has complete control over orders and drivers.
In an eCommerce Delivery Management Software, the dispatcher component is quite significant, and its existence is essential.
E-POD Using Ecommerce Delivery Management Software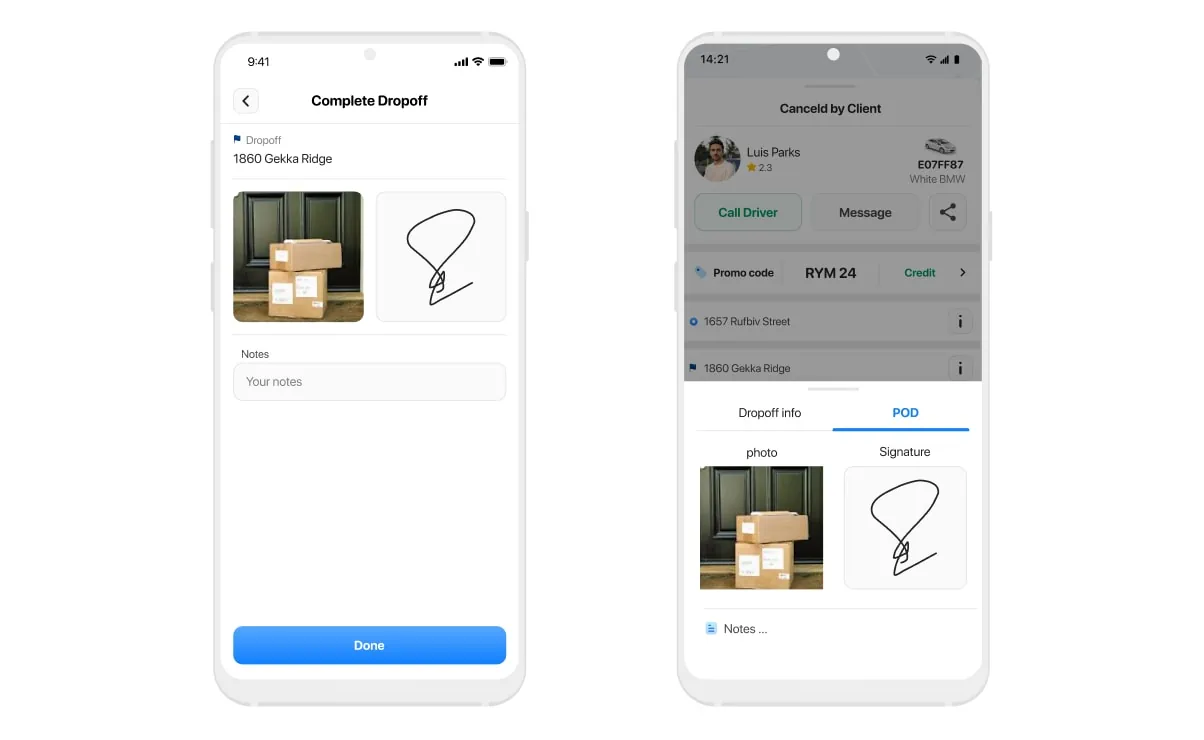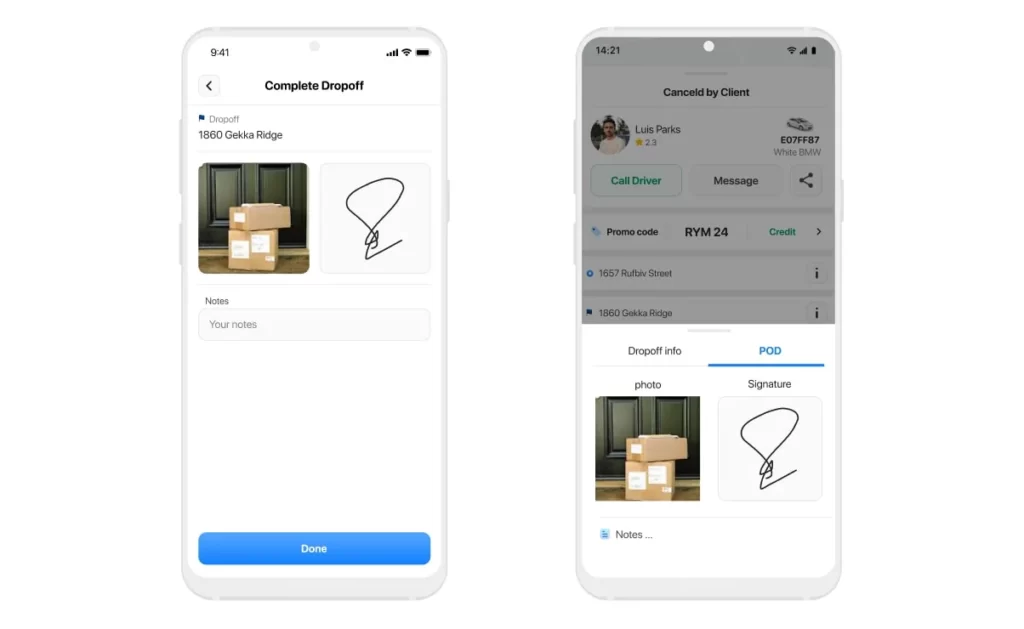 Proof of Delivery, or POD, is a method of proving delivery to the customer. Paper is the old approach, which is still utilized by companies who don't have the software to accomplish it electronically. When the order is delivered via the driver app, you can receive signature, image, and notes from the customer in an Ecommerce Delivery Management Software using E-POD. The Dispatcher, Customer app, Admin dashboard, and Driver app show the result. In addition to eliminating paper, E-POD automates the Proof Of Delivery process and aids in the accumulation of order data. The E-POD feature in Onro software is entirely functional and can be used for each drop-off.
Tracking and ETA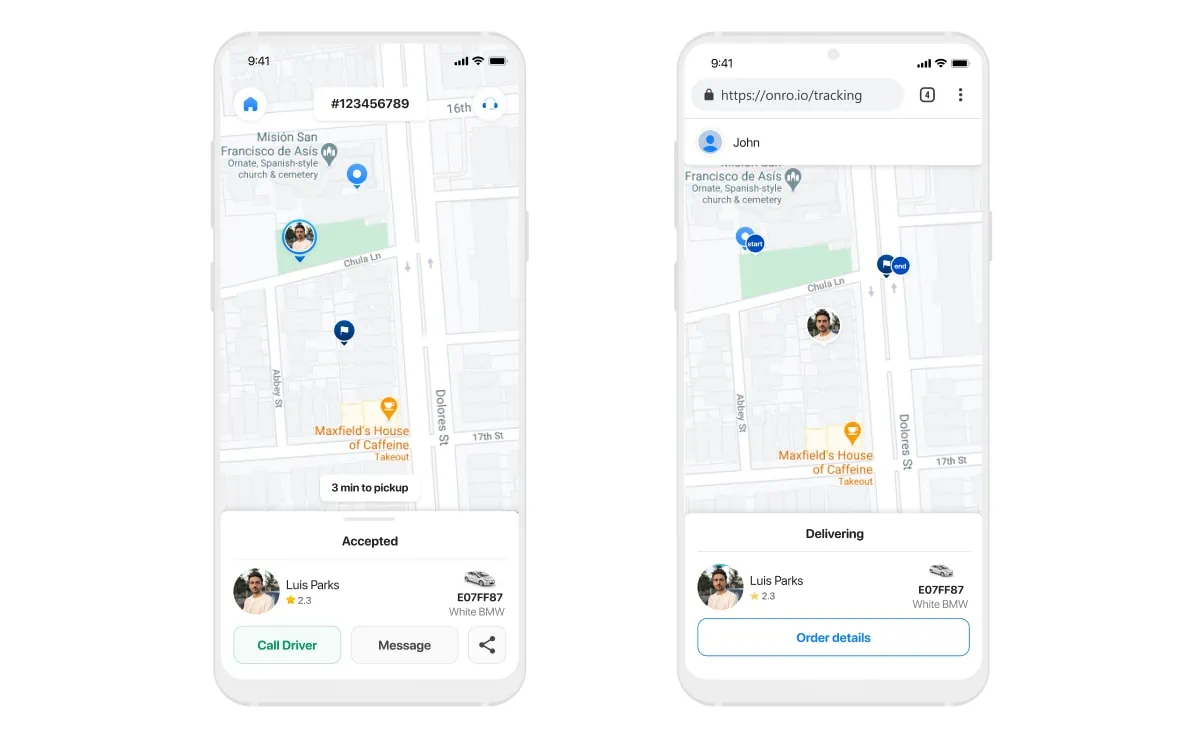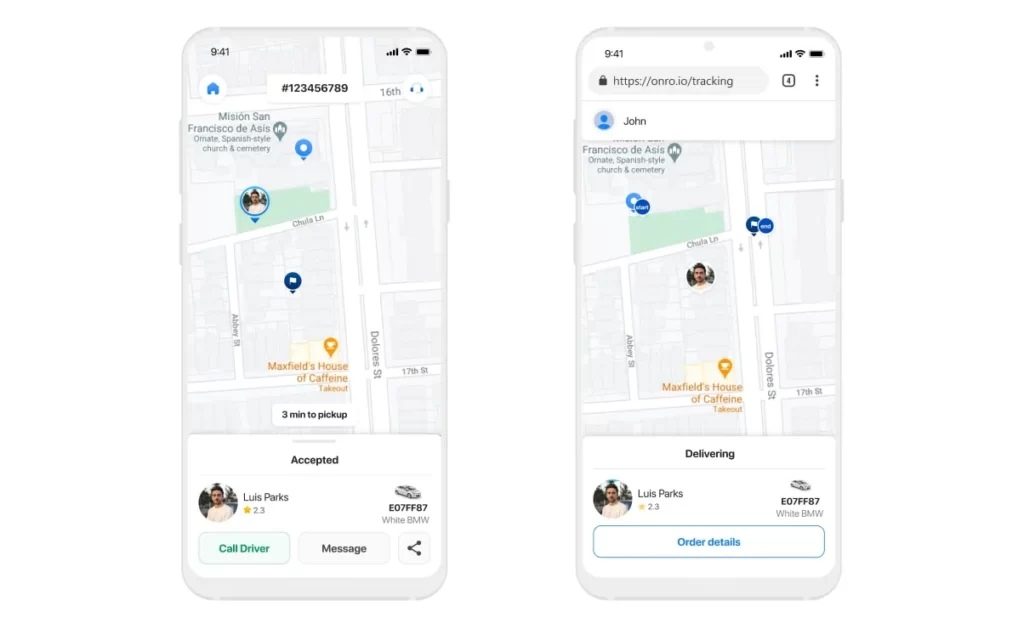 As an eCommerce business owner, you're certainly well aware of the need for tracking and providing an estimated arrival time (ETA) for your customers. When a customer purchases something from you, he/she expects to track the status of his order at any moment and know when it will arrive. The customer wants to know how their order is proceeding. Ecommerce software can help with some of these problems. However, eCommerce software cannot cover the final phase of the process, from when the order is sent until it reaches the customer in the last mile delivery area. You can use the features of E-commerce Delivery Management Software to solve the tracking issue in this part. It is possible to deliver a tracking link to a customer in various ways using Onro software. Email and SMS are two of these options. The customer can also use the customer app to follow their package in real-time. The shipment status is also presented to the customer in all of the above circumstances.
You can also utilize the ETA feature in Onro to show your customers the estimated arrival time of their delivery. This option is critical for increasing customer satisfaction and boosting the quality of your services.
Driver Application in an Ecommerce Delivery Management Software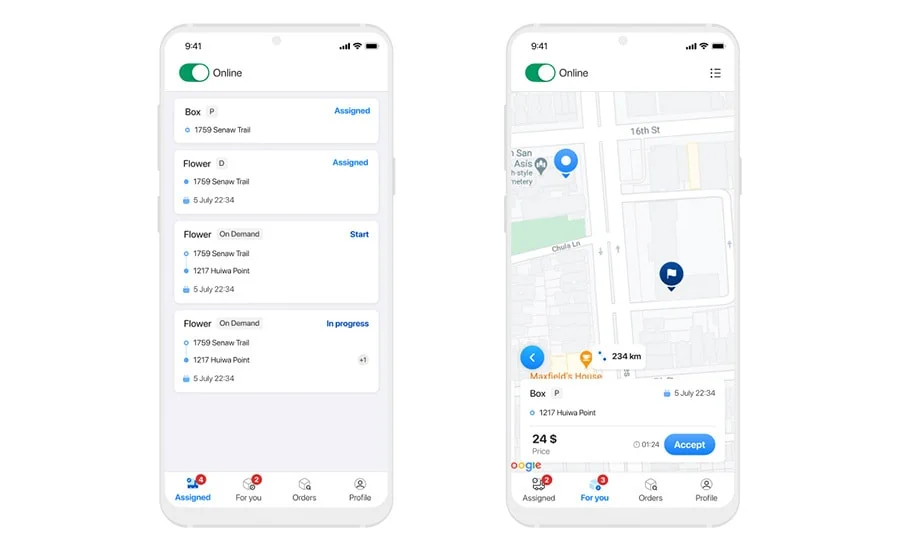 The Driver app is an essential part of an eCommerce Delivery Management Software. Your fleet performs the primary order delivery operations by installing the driver app. The following are the significant features included in the Onro Driver app (Android and iOS):
The app is used to register the driver (the driver can upload his documents).
Capacity to prepare and go online.
Receive immediate orders and have access to other system orders.
Manage orders and check order history, as well as change their status.
POD for each drop-off.
Wallet and credit increase.
Statistics and performance reports.
Settle and view transactions.
The ability to read messages sent by management and the message box.
Support for connecting with your company.
Drivers feedback can be recorded with the ability to record feedback.
Real-time chat allows to communicate with customers for free and in real-time.
Possibility of routing.
Customer Feedback in the Ecommerce Delivery Management Software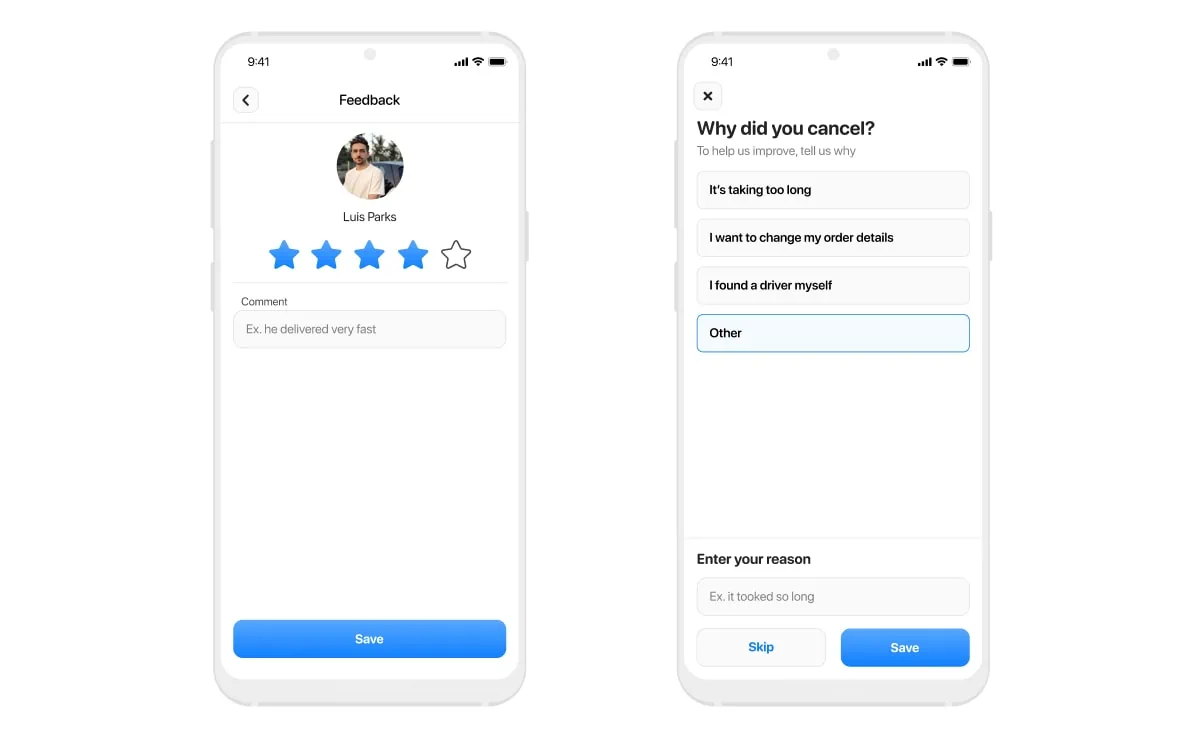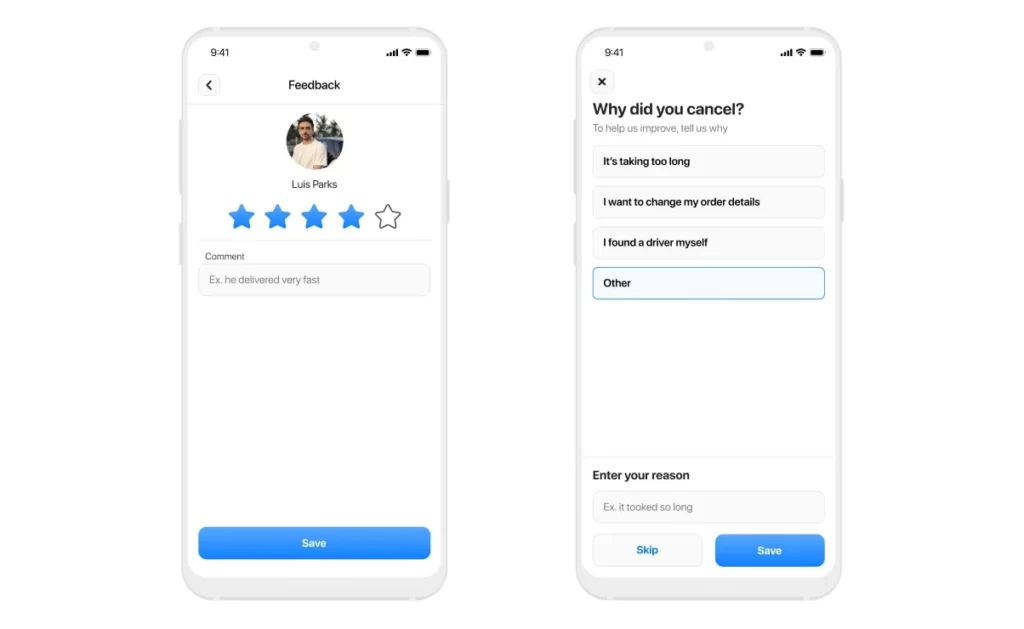 Feedback & Reasons is the crucial element that plays a vital role in achieving customer satisfaction. Receive feedback from your customers on how the product is provided using this function so that if they are dissatisfied or there is an issue with this aspect of the operation, you can find a solution to cheer them up. If this isn't possible, you won't be able to hear your customers' voices, and you'll lose business in this increasingly competitive eCommerce market.
After completing a purchase, the customer records his comments in Onro software, and you can use the data to assess your customers' degree of satisfaction.
Conclusion
While conventional delivery software can assist you in better managing this aspect of your eCommerce business, software that explicitly implements the significant delivery demands for eCommerce will contribute even more to your business's success. By reviewing the critical delivery processes in eCommerce, we have attempted to see the most severe issues facing eCommerce businesses in the sphere of delivery. Click button below if you want to get a free demo.
Try Onro for Free
Get your free access to the Onro All-in-one Delivery Management Software.
Originally published February 13, 2022 7:45 am, updated Sunday, 27 August 2023.